Pointing 2020
The most difficult and shortest seasons in recent memory due to both the amount of rain causing abandonments and the COVID-19 virus making racing as we know it unsafe.  Running plans were impossible to put in stone, but we managed to run 5 individual horses, 3 of them won from 12 runners and every runner finished in the first four, a testament to the hard work of the team in the yard and their meticulous attention to detail in turning out the horses fit and ready to perform.
We were lucky enough to be sent Art Mauresque by the de la Hey family, so we travelled 4 hours to Cottenham over Christmas in search of decent ground where he scooted up at the first time of asking under a motionless Will Biddick.  The staff Christmas bonus was topped up at a generous 6/4!  Now, all we had to do was finish in the first three in a Hunter Chase to qualify for the Aintree Foxhunters.  Not as easy as you may imagine with restrictions in qualification, abandonments and postponements, but despite being forced to race on much softer ground than ideal, we managed it.  Josh Newman stood in for the injured champ and although 'Arty' hated the conditions at a Soft/Tacky Wincanton, his experience and valuable claim meant he was able to coax him into the placings.  Mission accomplished.  3 weeks later, racing in the UK was stopped until at least May 1st.  At least we now know, if the race-conditions are rolled over as per usual, he is qualified for the next two seasons!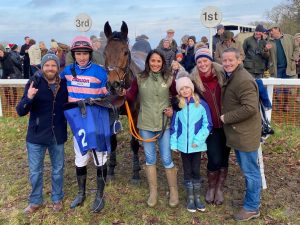 We acquired Song Of The Hunter from Irish points where he had good placed form in four runs in 2019.  We found an opportunity at Buckfastleigh over 2m4f in January where he jumped well and won easy, even better, he was sold right away and 8 weeks later won his next outing over obstacles at Taunton on the last day of racing before shutdown.  He joins the list of graduates to pass through our hands on their way to success under rules.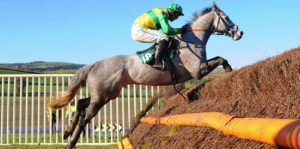 Perhaps the next one to go on to further success under rules will be Milanford?  Another fair priced horse to be bought from Irish points, having shown placed form for one of the smaller sized yards.  He arrived here and thrived in his new regime, then displayed his leaping prowess silhouetted along the back straight at Didmarton, jumping and galloping away from the field in the final mile before easing on the run-in.  He will win races over fences under rules and at the time of writing he is for sale.